Pressomassage with 8 sectors
Pressomassage equipment designed for the professional aesthetic market.
Description
Pressure therapy is a fundamental device in aesthetic medicine for the treatment of all those imperfections related to veno-lymphatic stasis such as cellulite, heavy legs, water retention, overweight and tissue relaxation.
The device acts to improve the lymphatic circulation and promote the drainage of liquids and slag; through the presetting of parameters such as pressure, inflation time- deflation and duration of treatment, you can choose the type of session targeted to the problem related acting in an automatic way for a veno-lymphatic re-education a deep drainage.
The physiological structure of the pneumatic leg eliminates swelling and fatigue from the legs preventing the formation of varicose veins and capillaries.
Pressure shall not be exerted simultaneously on the whole surface covered by the segments of the knee-highs, but according to a centripetal sequence that is followed by venous blood and lymph starting in most programs with the opening of the inguinal lymphatic ganglion. The "velcro" fastening of the leg allows a perfect adjustment on the limbs, even in subjects of different height and weight and the comfortable pouch leg holder allows to keep always in order the corsetry avoiding tampering.
The device is equipped with multiple programs that can be used individually for the whole treatment time or can be mixed to optimize the results obtained. Programming versatility allows the use of the machine even for inexperienced operators.
Accessories
Boot with 8 sectors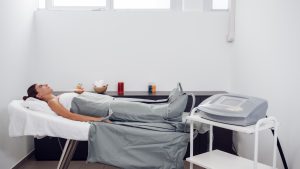 Bracelet with boot 8+2 sectors
IPL Pulsed Light

Chiara

2020-06-24T15:26:02+00:00

Ultrasound
1MHz - 3 MHzChiara

2021-07-28T14:05:41+00:00

FCF Face Complex Four

Federica

2021-07-28T13:59:28+00:00

Laser diode 808

Chiara

2020-06-24T08:08:06+00:00

Pressomassage with 8 sectors

Chiara

2021-07-28T13:26:18+00:00

XL-QUANTY multifunction body

Chiara

2020-06-12T12:00:09+00:00

Capacitive and Resistive Radiofrequency

Chiara

2021-07-28T13:52:46+00:00